Horse racing is known as the "Sport of Kings" but now, thanks to the convenience of technology, it is accessible to everyone. Fans can watch and wager on horse racing action from around the country from the convenience of a computer or mobile device and now never have to miss a second of the action all year long. There are numerous legit online racebooks that can bring the best horse racing betting excitement right to your fingertips.
Horse Racing Wagering Sites
There are several variables that the most astute horse racing handicapper should consider in order to gain a competitive advantage before placing a wager. With numerous options for online horse racing action, horseplayers can get the most bang for their buck and find the online racebook that best suits their needs with rebates, incentives and promotions. Additionally, we have the resources, including expert analysis and opinion, to help with your handicapping!
Bovada is largely recognized as a leader in online wagering and they top the charts for horse racing action as well. With over 60 tracks to choose from through the year, there is always exciting horse racing action available on their racebook. Bovada offers the latest future odds as well as fixed odds market every week on all graded stakes races and major races which makes betting contests like the Breeders' Cup and Kentucky Derby even more exciting.
Bovada posts future odds every week by Tuesday at 2:00 p.m. EST and the fixed odds market will be posted two days prior to the graded stakes race by 3:30 p.m. EST. Once the track pools open, the futures and fixed odds markets will close and the action will continue in their Racebook.
For international racing fans, PMU International offers wagering options on horse racing from France. They offer an array of interesting wagers which vary from the simple to the exotic and the racing includes trotting (harness racing with Standardbreds) and Thoroughbred racing both on the flat and steeplechase. They also offer expert selections and previews of the major races.
Bovada continues to lead in the rebate and incentive department as well. New players are eligible to receive a 100% welcome bonus of up to $250 with their first deposit. The incentives don't stop there – Bovada continues to reward horseplayers with weekly rebates of up to 5% back on Racebook wagers every Tuesday.
Off Track Betting has been a relatively new addition to the gambling landscape in North America and only became legal in the 1970s. Today, horseplayers have plenty of options and can and wager on horse racing from across the country at conveniently located OTB locations in just about every city in North America. Many of these OTB locations offer an upscale sports bar atmosphere and fans can enjoy a day out with friends while they get in on the horse racing excitement.
The Triple Crown is the most coveted prize in all of Thoroughbred horse racing. While making it to one of the iconic host tracks to see the Kentucky Derby, Preakness Stakes or Belmont Stakes in person can be unattainable, horseplayers can get in on all of the excitement through one of our recommended online racebooks and not have to miss a minute of the excitement from tracks such as Churchill Downs, Pimlico or Belmont Park.
Kentucky Derby Betting Guide
The Kentucky Derby is the best known event in all of horse racing. Run at Churchill Downs beneath the iconic Twin Spires on the first Saturday of May, the Kentucky Derby is known as the most exciting two minutes in sports and is rich in history, tradition and thrills. Getting tickets to the big event can be next to impossible. However, fans do not have to miss a second of the action with one of our recommended online racebooks.
Preakness Stakes Betting Guide
The Preakness Stakes is the second jewel of Thoroughbred horse racing's Triple Crown and is held two weeks following the Kentucky Derby at Pimlico Racecourse in Baltimore, Maryland. The race is slightly shorter than the Kentucky Derby and is known for having a raucous party in the infield of the track. The thrill of the Preakness race is just a couple of clicks away.
Belmont Stakes Betting Guide
The third and final leg of the Triple Crown is held three weeks after the Preakness Stakes (five weeks after the Kentucky Derby) at Belmont Park in Elmont, New York. Known as the "Test of Champions", the grueling mile and a half contest is the true test of a Thoroughbred's stamina and tenacity. This race has been the host of some of horse racing's greatest triumphs and biggest heartbreaks.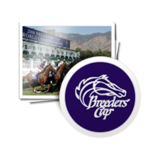 The Breeders' Cup World Championship has grown into one of the most anticipated events in horse racing since the inaugural running in 1984. The best horses from around the world converge each year at a track in North America to compete for purses of upwards of $25 million during the first weekend of November. The races cover numerous divisions and often, the year-end championships are on the line. This is the horseplayer equivalent of Christmas and sharp handicappers can pocket significant winnings with such competitive races.
Horse Betting Strategy
One path to success when wagering on horse racing is to develop a strategy and stick to it. Strategies can vary from person to person so it is important to find one that makes sense to you and experiment to see which one yields you the most success.
Here are some common horse racing betting strategies:
Trip Handicapping
First off, this involves watching a lot of racing. The more you see, the more you will develop an eye for a horse that ran a good race despite a troubled trip, bad luck or a poor ride. Make note of these horses and pay attention to the next time they are racing. The average patron may not realize that this horse actually ran a good race the time before and is in better form than he or she appears on paper and therefore, being the astute handicapper that you are, you could get some hidden value.
Track Bias/Trends
Even on the days you do not handicap the races, take a few moments and go back and look through the result charts. Do you notice any trends from the day? Sometimes, a track bias can develop which means that the track is heavily playing in favor of horses on the lead or maybe closers. Another thing to keep an eye out for is whether or not an inordinate amount of horses are winning on the rail – sometimes you can see a trend developing. If you do, watch even more closely the next day to see if that trend or bias is continuing.
Live Connections
Some jockey and trainer combinations get hot and stay hot during the course of a race meet. Many trainers will develop a relationship with a rider and that jockey will become their "go-to" when they have a live horse. Pay attention and notice when jockey and trainer combinations team up for a high percentage amount of victories.                                
How To Place Horse Bets
There are many different ways you can place your bets to maximize both your excitement and potential to cash in. There are simple and relatively exlf explanatory wagers such as win, place and show wagers. Betting a horse to win is obvious, place means second, show means finishing third.
Once you have that mastered, you can move on to exotic wagers like exactas, trifectas and superfectas. In an exacta, you pick the top two finishers. A trifecta means you pick the top three finishers and a superfecta is the top four. To stack the deck in your favor, you can "box" these wagers so that the horses you have selected can finish in the top positions in any order.
The final piece of the wagering puzzle involves multi-race bets such as doubles, Pick 3s, Pick 4s and the most challenging, a Pick 6. Picking a single winner can be hard enough, but six consecutive winners in designated races?! While it is not impossible, it is a challenge and these multi-race wagers often offer the most lucrative payouts.